---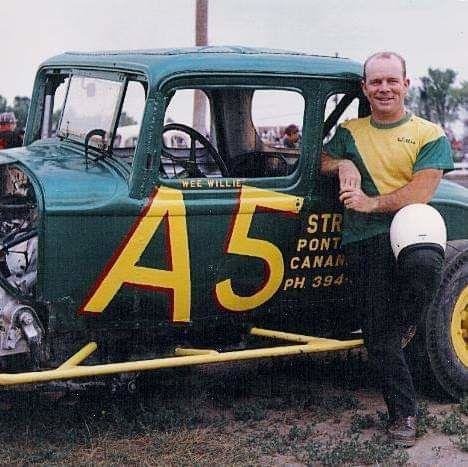 Obituary of William C. Allan
William C. Allan (Wee Willie), 89, of Skaneateles, passed away April 1, 2019.
He was a graduate of Marcellus High School and a proud Army Veteran serving in Inchon, Korea in 1951. Upon his return from serving his country, his father, Pop Allan, introduced him to local auto racing. He and Pop chopped up old Ford coupes and raced locally, frequently being named most popular driver. Always a crowd-pleaser, Willie once pedaled a child's replica of a 1957 Plymouth convertible down the front stretch at Waterloo just for the children. Although his formal racing career ended in 1979, he raced off-and-on into the '90s. Loving the sport as he did, he also got his fix as the official pace car driver at Weedsport Speedway, Rolling Wheels Raceway, and several other tracks in the 1980s and '90s. He was inducted into the DIRT Motorsports Hall of Fame in 1993 and genuinely loved being the life of the party. He enjoyed shooting pool, the Buffalo Bills, and Notre Dame Football.
To his family he became known as Pop, and he could be seen performing back flips on his granddaughter's trampoline into his 80s. He is survived by his best friend and son Bill, his daughter-in-law Kim, and granddaughter Shea.
Friends are invited to join the family in a celebration of Wee Willie's life from 4 to 6 p.m. on Wednesday, April 10, 2019 at AT Wally's, Auburn. In lieu of flowers, contributions may be made in his memory to the Central New York Alzheimer's Association.