---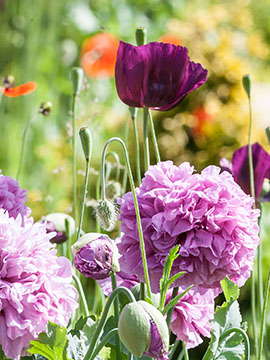 Obituary of Mary L. Steigerwald
Marie L. Steigerwald, 99, of the Boyle Center, Auburn passed away peacefully on October 7, 2018 at home. She was the oldest and longest tenant of the Boyle Center, having lived there since its inception 38 years ago.
Mrs. Steigerwald was born in Auburn on July 31, 1919 the daughter of John and Mary Brechue Kemp. She is a member of St. Mary's Church and its Rosary and Scapular Society, the Mothers Club at St. Alphonsus and R.S.V.P in Auburn.
Mrs. Steigerwald is survived by her son, Albert Steigerwald, Jr. of Sherman Oaks, CA, her daughter Anne Marie Camden-Britton (Rob) of Vancouver, WA., eight grandchildren, fourteen great grandchildren, 2 daughters in-law, Midge Steigerwald of East Rochester, NY and Leona Steigerwald -Kee of Chichester, NH. Several nieces, nephews and cousins.
Along with her parents she was pre-deceased by her husband Albert A. Steigerwald, Sr. in 1997, her son Jack Steigerwald in 1999 and a brother John T. Kemp.
A funeral mass will be held on Saturday, October 20, 2018 at 11 a.m. in St. Mary's Church, Auburn. There will be visitation from 9 a.m. to 10:30 a.m. at Farrell`s Funeral Service, Inc., 84 South Street, Auburn prior to the funeral.
In lieu of flowers memorial contributions in memory of Mrs. Steigerwald may be made to either Hospice of the Finger Lakes, 1130 Corporate Drive, Auburn, NY13021 or to the St. Alphonsus Food Pantry, 85 E. Genesse Street, Auburn, NY 13021.