---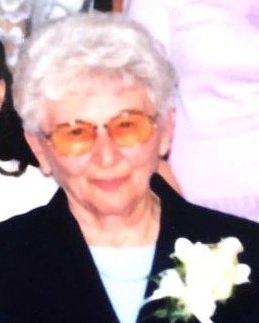 Obituary of Zeffa Ferro
Zeffa Virginia Williamson Ferro, 94, of Auburn, passed away peacefully Wednesday, Aug. 15, 2018, at the Commons on Saint Anthony surrounded by her loving family.
Zeffa was born in Interlaken, N.Y. on April 13, 1924. She was the daughter of Lloyd and Arlene (Ritchie) Williamson. Zeffa spent most of her life in Auburn, where she married her beloved husband, Armando Ferro, and they raised their four children.
Zeffa retired from General Electric where she worked for many years as a group leader. The GE girls remained her lifelong friends. Zeffa was a parishioner of St. Francis Church for many years. She was a member of the Mother's Club there among other affiliations. One of Zeffa's greatest joys in life was spending time with her children, grandchildren, and more recently her great-grandchildren. Nana, as her family affectionately called her, will be missed by all of those who loved her.
Zeffa is survived by her children, Virginia (Lawrence) Ellis, John Ferro, and Jeanne (Thomas) Eisenschmidt, all of Auburn, and James (Shelley) Ferro, of Clifton Park, N.Y.; her grandchildren, Darcie Ellis, Jessica (Jim) Kessler, Melissa (Matt) Ekiert, Robert Ferro, Johnathan Ferro, Joshua (Maria) Eisenschmidt, of Raleigh, N.C., Joel Eisenschmidt, Kristin (Alan) Astrom, of Woodstock, Ga., and Mandy Ferro, of Saratoga Springs, N.Y., and five beloved great-grandchildren. She is also survived by her sister, Helen Wanke, of Rochester; brother, David (Mary) Williamson, and brother-in-law, Wilson Huff, both of Waterloo; as well as several nieces and nephews.
In addition to her husband, Armando, and her parents, Zeffa was predeceased by her daughter, Gloria Jane; sisters, Leona, Marjorie, Eileen, and Louise; brother, Charles, and her sisters and brothers-in-law, in both the Williamson and Ferro families.
Zeffa's family would like to express their sincere appreciation to the staff of the Faatz-Crofut Home and the staff on the second floor at the Commons on St. Anthony for the wonderful care they provided their mother during her stay at both facilities.
A Mass of Christian Burial will be celebrated at 10:30 a.m. on Thursday, Aug. 23, 2018, in St. Francis Church, Auburn. Burial will be in St. Joseph's Cemetery, Fleming, N.Y.
The omission of flowers is suggested with memorials in memory of Zeffa may be sent to the Faatz-Crofut Home for the Elderly, in care of Karen Gunnip, 46 Grant Ave., Auburn, NY 13021.