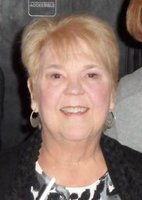 Maureen G. Leonard Kuhlmann
Mrs. Maureen G. Leonard Kuhlmann, 77, of Court Street, Cayuga, passed away Friday, Oct. 5, 2018, at Auburn Community Hospital.
Maureen had resided in Cayuga most of her life; a graduate of Auburn Central High School with the class of 1958. After graduation she spent a few years in Washington, D.C., serving as a secretary at a Washington, D.C. hospital. She had retired from the Seneca Cayuga Action Committee, having previously worked at New York State Chiropractic College, Eisenhower College, Goulds Pumps, and General Products. While at General Products, she met her husband, Harold A. Kuhlmann who predeceased her on June 3, 1999.
During her retirement, Maureen had loved traveling, and had been all over the world. She loved her family, many friendships, and always being on the go. Maureen enjoyed entertaining and hosting her friends and family and her home that she loved.
Surviving are their children, Kelly Kidwell (Joel), of Palm Coast, Fla., Dana Kuhlmann (Annette), of Baldwinsville, Matthew Kuhlmann (Johanna), of Port Byron, Heidi Aurora (John), of Howard Beach, N.Y., and Kevin Kuhlmann (Chersti), of Waterloo; 16 grandchildren, Patrick, Jennifer, Courtney, Carley, Katie, Lauren, Colleen, Mary, Matthew, Erika, Mattea, Hanna, McKenna, Kannon, Finn, and Jack; eight great-grandchildren, Ezra, Paxton, Kohen, Anthony, Kylee, Mia, Joel, and Brianna; one sister, Janet Hitchcock, of Manchester, N.H.
She was predeceased by her husband, Harold; father, John Leonard; mother and step-father, Marion and Irv Englebrecht; brother, Jack Leonard, and sister, Patricia Dunker.
A funeral Mass will be held at 11:30 a.m. Thursday, Oct. 11, 2018, in St. Mary's Church, Auburn, with the Rev. William Darling, as celebrant. Interment will be in Lakeview Cemetery, Cayuga. Calling hours will be held from 4 to 7 p.m. Wednesday, Oct. 10, 2018, at Farrell's Funeral Service, Inc., 84 South St., Auburn.
The omission of flowers is requested with memorials to the Cayuga Volunteer Fire Department.