---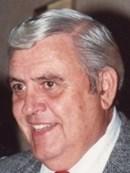 Obituary of Patrick O'Grady, Jr.
Patrick J. O'Grady, Jr., 84, lifelong Syracuse resident passed away at home on Saturday. A graduate of Cathedral High School, a US Air Force Veteran of the Korean War he retired as the former owner of the South Geddes Bakery. He also was employed for several years as a Baker for Morey's Mill.
He was a great SU Basketball sports fan as well as a devoted fan of the NY Yankees. He enjoyed OTB, and was always game for a casino trip or to Cape Cod. Pat was a family man, and thoroughly enjoyed attending all ten of his grandchildren's events.
Surviving are his wife Eileen M. O'Grady, whom he married on September 29, 1956 in St. Lucy's Church, Syracuse with the pastor, the bride's cousin Reverend James Kennedy. As the celebrant. Children, Michael O'Grady (Tiffany); Maureen Robinson, Colleen White, all of Syracuse, Bridget (Sam) Robbins, Manalapan, N.J., Mary Pat O'Grady, Syracuse; ten grandchildren and one great-granddaughter; sisters, Agnes DeTomo, TN, Mary Ann Campbell, TX, Eileen (Terry) Rouche, PA., Margaret Paige, Camillus.
He was predeceased by his parents, Patrick (Catherine Smith) O'Grady, Sr.; a sister, Kathleen O'Grady and several nieces and nephews.
A Mass of Christian Burial will be celebrated at 11 am Friday, April 7, 2017 in Most Holy Rosary Church, 111 Roberts Ave., Syracuse. Interment will follow in Onondaga Veterans Cemetery. A calling hour will be held from 10 to 11 am prior to Mass in church. Memorials may be made to the American Heart Association .