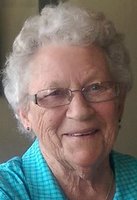 Louise Feist Phillips
Mrs. Louise Feist Phillips, 85, of 3088 Franklin Street Road, Auburn, passed away peacefully surrounded by her loving family on Monday, Oct. 30, 2017 at Auburn Community Hospital. Louise was known affectionately by her family and friends as "Weezie." She was born in Auburn on Aug. 8, 1932 to John and Alice Meaker Feist.
Louise was a proud member of the Auburn East High School class of 1950. She attended Auburn Business School and briefly worked at Beardsley Architectural Firm before meeting the love of her life, Joe Phillips, and staying home to raise their four children.
Louise served on the board of the Cayuga Home and Seymour Public Library. She was also a director of the Women's Bowling Association of Auburn and Tupelo, Miss. She will be most remembered for her kindness, humility and sense of humor.
Louise was predeceased by her husband of 57 years, Joe, and her brother, John Feist.
Surviving are their four children, Anne (John) Mlod, Sue (Gary) Coe, Peter Phillips, and Paul (Mitzi) Phillips. Also surviving are four grandchildren, Meghan Coe (Drew Savino), Ryan Coe, Adam and Jana Mlodzianowski; her twin sister, Jane Melas; a sister-in-law, Helen Phillips; as well as beloved nieces and nephews. She also leaves behind many close friends in Auburn, New Smyrna Beach, Fla., and Tupelo, Miss.
Her family would like to thank Wendy, Shelly, and all the "Angels" at Matthew House and Hospice who took special care of Louise; as well as her wonderful caregivers at home.
Friends and relatives are invited to calling hours from 4 to 7 p.m. (today) Friday, Nov. 3, 2017 at Farrell's Funeral Service, Inc., 84 South St., Auburn. A celebration of Louise's life will be held at 10 a.m. Saturday, Nov. 4, 2017 in The Episcopal Church of SS. Peter and John, Genesee Street, Auburn.
The family requests the omission of flowers, with remembrances to Matthew House, 43 Metcalf Drive, Auburn, NY 13021 or Tupelo Humane Society, P.O. Box 1185, Tupelo, MS 38801.