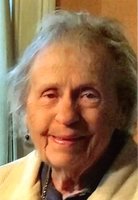 Patricia C. Davia
Mrs. Patricia C. Davia, 85, of The Village at Auburn Grove #215, 138 Standart Ave., Auburn, passed away on Sunday, March 18, 2018, at home surrounded by her family.
A native of Auburn, she was the daughter of Walter and Mary Moran Light. She was employed at Marshall's Men's Clothing Store in Auburn for more than 20 years retiring in 1989. She was a devoted Syracuse basketball fan and was a former member of the Cayuga/Aurelius Senior Citizens. Mrs. Davia had returned to Auburn in 2015 with her husband, Robert L. Davia, after six years in Bellingham, Mass.
She was predeceased by her husband of 63 years on March 21, 2016.
She is survived by their children, Susan Rouillier (Wayne), of Manlius, Robert M. Davia (Katherine), of Auburn, and John Davia (Janine), of Bellingham, Mass.; grandchildren, Katherine Holtz (John), Mark Davia (Holly), Jacquelynn Newman, Michael Bond, Ryan Davia, Ellen Davia, and Bill Simpson; great-grandchildren, Justus and Britney Davia, Natalie Simpson, Jack Holtz, Connor, Cayden, and Collin Davia, and Hailey Newman; a sister and brother-in-law, Robert and Barbara Christina, of Greensboro, N.C.
Along with her parents and husband, she was predeceased by her brother, Walter S. Light.
Memorial visitation will be held from 4 to 6 p.m. Saturday, March 24, 2018, at Farrell's Funeral Service, Inc., 84 South St., Auburn. A memorial service will follow at 6:15 p.m. at the funeral home. The Rev. Matthew P. Binkewtcz, MA, CT., Chaplin of Hospice of the Finger Lakes, will be officiating.
Memorial contributions in memory of Mrs. Davia may be made to Hospice of the Finger Lakes, 1130 Corporate Drive, Auburn, NY 13021.