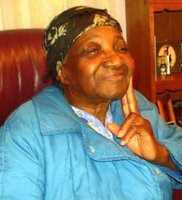 Katherine McIntosh
Mrs. Katherine McIntosh, 91, of Owasco Street, Auburn, peacefully passed away on Monday, Feb. 26, 2018 in her home surrounded by her loving family.
A native of Richmond, Va., Katherine or "Kate" Hayden McIntosh was born on June 25, 1926. A resident of Auburn since 1964, she was self-employed, working for several area families. She cared for her clients as much as she cared for her own family.
Katherine loved her home, waving to all from the front porch rocking chair, growing flowers and vegetables. Her travels included trips to Florida to visit family, Disney with friends, Niagara Falls, Canada, shopping trips to Amish Country, New York City, and anywhere she was invited, she was ready to go. A great fan of The Food Network, and cooking channel, she was always the gourmet cook. She loved the New York State Fair, visiting often ever year.
A good walk to Wegmans was easy, anytime of the year. She loved to visit the store several times a week just to check the produce and visit her pals. She was the most popular volunteer every year at the Haunted House on Anna Street.
Surviving are a daughter-in-law, Kathleen McIntosh; grandchildren, Tina McIntosh, Benjamin McIntosh (Rena Johnson) and Max, Melissa McIntosh, and Jeffrey McIntosh (Cheryl); great-grandchildren, Jamel McIntosh, DeAntha McIntosh, Cherelle Byrd (Dontay Wilson), Kenneth Byrd Jr., Latice McIntosh, Samuel McIntosh, Tessa McIntosh, Jeffrey McIntosh Jr., Jaida McIntosh, and Chanyce McIntosh; great-great-grandchildren, Taliyah McElwain, TaKayla McElwain, Laniyah Blake, Jamel McIntosh Jr., Perry-on Walker, Dontay Wilson Jr., and Analyah Barletto; special friends, Mary Rowe, Laura Cuthbert, Cheryl Foster, and Michael O'Gorman.
She was predeceased by her son, Benjamin McIntosh; great-granddaughter, Tranecce Tillman; longtime friend, Alice O'Brien Foster; and her special cat, Rusty.
Calling hours will be held from 5 to 7 p.m. Monday, March 5, 2018, at Farrell's Funeral Service, Inc., 84 South St., Auburn, and from 10 to 11 a.m. on Tuesday prior to services in the church. Funeral service will be held at 11 a.m. on Tuesday, March 6, 2018, in Roosevelt Memorial Baptist Church, 101 Fitch Ave., Auburn. Interment will follow in Fort Hill Cemetery.