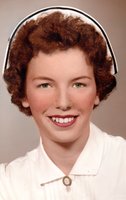 Diane C. Poole
Mrs. Diane C. Poole, 76, of 5673 Cross Road, Cayuga, passed away Sunday, Feb. 18, 2018 at St. Joseph's Hospital, Syracuse.
A retired registered nurse, Diane retired from the Cayuga County Nursing Home as nursing supervisor. Previous nursing employment had been in Seneca Falls, Waterloo and Geneva Hospitals, after starting her nursing career with Mercy Hospital, Auburn.
She was born on March 6, 1940, the daughter of Donald and Melania Dorywalski Lynch. She was a graduate of Perry High School, Perry, N.Y., and SUNY Buffalo. She was a former volunteer nurse for the CANUS Games, a great gardener, baker and always enjoyed maintaining her bird feeders. Diane was dedicated to the Union Springs Fire Department, and whenever she found the time a good shopping trip was on the things to do list.
Surviving is her husband, James M. "Doc" Poole; children, Steven S. Vincent (Cindy), of Jacksonville, N.C., Judith Gourley (James), of Jordan, N.Y., Michael Vincent (Lorie Dymick), of Auburn, Deborah Surbee (John), of Auburn, James Poole Jr. (Stephanie), of Auburn, Douglas Poole (Deborah), of Port Byron, David Poole (Tracy), of Bloomfield, N.Y., and Scott Poole, of Bloomfield, N.Y.; several grandchildren; great-grandchildren; nieces; nephews, and in-laws; and one brother, Paul Lynch (Arlene), of Batavia, N.Y.
She was predeceased by Cassie Sidrow and Susan Lynch.
A celebration of life will take place from noon to 3 p.m. Saturday, Feb. 24, 2018, at the Union Springs Fire Department. A prayer service will be held at noon. Interment will be in Chestnut Hill Cemetery.
Memorials may be made to the Union Springs Fire Department.