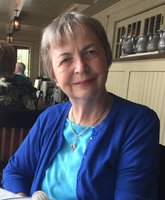 Erika S. Chanko
Erika S. Chanko, 73, widow of Richard J. Chanko passed away Monday, February 5, 2018 in Strong Memorial Hospital, Rochester, NY..
A longtime resident of Auburn, she was the daughter of Bernice Szadurski. She was formerly employed at Marine Midland Bank, Chappell's Department Store, and H. R. Wait Company. She was a communicant of St. Hyacinths Church.
Erika's ability to travel was limited by her disabilities, although she was able to travel locally. Her favorite destination was to Skaneateles and the Sherwood Inn for a wonderful lunch overlooking the beautiful lake. She absolutely loved her iPad, it gave her the ability to see so much that's out there and also the ability to communicate with friends and family.
Surviving are her brother in law Ronald Chanko of Auburn, nieces Kristine Wills-Farley of Tampa FL and Melissa McConnell of Charlotte NC and Matthew Chanko of Germantown MD.
There will be no public visitation. A Mass of Christian Burial will be celebrated on Monday, February 12, 2018 at 11 a.m. in St. Hyacinth's Church, 61 Pulaski Street, Auburn. Interment will be in St. Joseph's Cemetery, Fleming.
We would like to extend our appreciation to the staff of Strong Memorial Hospital for their wonderful care and support.
Contributions in memory of Erika may be made to organizations that help children and animals.