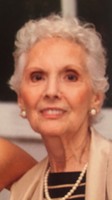 Yvonne Deneault Breault

Mrs. Yvonne T. Deneault Breault, 84, of Bluefield Manor, Auburn, passed away peacefully at Auburn Community Hospital, surrounded by family, on Wed. Nov. 29, 2017.

A devote Catholic, she was a member of Holy Family Church, Auburn. Her life was devoted to her family. She loved her Sunday dinners with all the kids and grand-kids, all the great vacations when her own kids were little. Yvonne had a gift for gardening, perfected with taking classes at the Cooperative Extension. As a great cook, she followed her French heritage.

Mrs. Breault was born in Cohoes, N.Y. on Oct. 13, 1933, the daughter of Paul and Leana Bonneville Deneault. She was a graduate of Waterford High School. Along with her husband John as the pharmacist, they had owned two area pharmacies; West Side Pharmacy, Auburn and Blakes Pharmacy, Port Byron. They had married on March 29, 1953. John predeceased her on Dec. 18, 2013.
Surviving are their children Donna (Ned) Murphy, of Auburn; Nancy (Andy) Feocco, of Auburn; Barbara Brown and fiance Gary Scanlon, of Camillus; John (Nancy) Breault, of Auburn; Marc (Michelle) Breault, of Auburn; Paul (Laurie) Breault, of Tampa, Fla.; grandchildren Travis & Dustin, Leah (Colby) and Deanna (Shawn), Sara & Billy, Lyndsay and John III (Alexandra), Nicolette and Cassandra and Jacob; four great-grandchildren Aubrey and Lexie Feane; Elisabeth "Ellie" Mizro and John "Jack" Breault IV; a brother Roland (Millie) Deneault, of Waterford, N.Y.; a sister Jean (Warren) Carter, of Florida.

A Mass of Christian Burial will be celebrated at 10 a.m. Tuesday, Dec. 5, 2017 at Holy Family Church with the Rev. John Gathenyea as celebrant. Entombment will follow in St. Joseph's Mausoleum. Memorials may be made to the Holy Family Church Roof Fund, 85 North St., Auburn, NY.