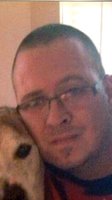 Michael Stephen McNeill
Mr. Michael S. Mc Neill, 42, of 8774 Dwyer Road, Port Byron, N.Y. passed away at home on Nov. 8, 2017.
Funeral Services will be held Tuesday, Nov. 14, 2017 at Farrell's Funeral Service Inc., 84 South St. Auburn N.Y. Calling hours will be held from 4 to 6 p.m., prior to services at 6 p.m.
Michael was a Union Springs High School graduate, and had been employed by the Jordan Wire Company and McKenzie Childs. He loved his family, enjoyed reading, fishing and computer games. He especially loved animals, cats and dogs. He had been a frequent volunteer at the Finger Lakes Society for the Prevention of Cruelty to Animals.
He is survived by his mother, Patricia Weigand (John) Port Byron NY; father Stephen Mc Neill (Irene), Moravia; sister Amberlyn Mc Neill (Dave Pettigrew), Lansing, NY; Nieces and nephews Matt & Michael Pettigrew, Lansing NY, Cody Mc Neill, Lansing, Tabitha Demus, Monticello NY, Christine Rooker, Port Byron, NY, Ivey Card, Lansing, Zachary Bair, Monticello NY, several great nieces, nephews and cousins.
Memorials may be made to the Central New York SPCA, 41 York St., Auburn.